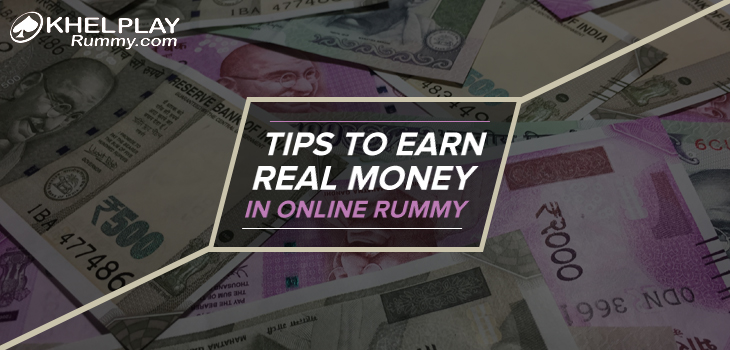 Playing online rummy games for real cash has become a popular way to make some extra pocket money. What can be better than getting money for playing your favorite game? Earning cash by playing online rummy games is a popular trend. Players who play rummy online for real money are being recognized as professionals with excellent skills and experience.
Here are some essential tips that can help you make more money in the game of rummy.
Play the variation you like the most

It is advisable to play the rummy game that you are best at. You can explore by trying various types of rummy games available online. You can participate in tournaments and see what interests you the most. Once you have found an answer to this, you can stick to the rummy game forever.The idea is to be confident at whatever you are doing.

Learn the game thoroughly
Before you register yourself at any website to play rummy for real cash, ensure you have studied the game thoroughly. You need to learn in depth about the game you are interested in. Playing the game without knowing its rules or the strategies involved can make you lose your hard earned money.
Prepare strategies
If you want to win an online rummy game every time, you need to develop intelligent strategies even against unknown players. A good strategy will ensure that you don't make silly mistakes when playing for high stakes. Playing, learning, and adapting are the key factors that ensure your winning. Also, you need to track the moves of your opponents. Doing so will make you smarter at the game in the long run.
Sharpen your cognitive skills
Rummy is a game that requires you to master your cognitive skills. If you sharpen your cognitive capabilities, there are high chances of you understanding the game better. Also, the more you practice, the better you will understand the game.
Learn when to quit
Not every game leads you to the winning path. All rummy websites allow the players to back out of the game. It is essential to analyze your cards and make the right decision. Also, dropping out is not the issue, it is important to know when a person has to drop out. Playing an intricate hand can make you lose the game. If you feel that your cards won't fetch anything, drop out without thinking much. Dropping out at the right time can make you save your money.
Utilizing offers
Offers, discounts, promotions, etc. are somethings that attract a number of players. There are many websites that offer bonus cash for simply registering with them. This is great for new players as they can start playing the game without depositing money. There are many such offers that websites introduce to attract players. It is essential to select an offer wisely to ensure maximum benefit from it.
These are some tips that may help you win the game and make some extra money. However, it is essential that you keep reading more and more about the rummy game you are playing. Doing so will expand your knowledge and make you a champ. Online rummy is a game of skills and sharpening your skills regularly can prove beneficial in the long run.
More:
Play Online Rummy Anywhere and Anytime on Mobile
5 Personality Traits of a Good Rummy Player